ARE ROBOT BRINGS A NUMBER OF BENEFITS FOR YOUR COMPANY
Excellent power-to-weight ratio and increased fatigue resistance allow ARE to operate at high speed for a long time.
Thanks to the hybrid drive of ARE Robot, you will save the time needed to get to the site and set up the machine, and thanks to the simplicity of its operation, you will start working faster than ever.
Despite its light weight, construction of ARE Robot ensures maximum durability of all parts, and lubrication-free bearings will reduce the need for daily servicing.
The cooling system and remote control make ARE suitable to work in high temperatures and difficult conditions – where operator controls the work from a distance using an ergonomic remote control.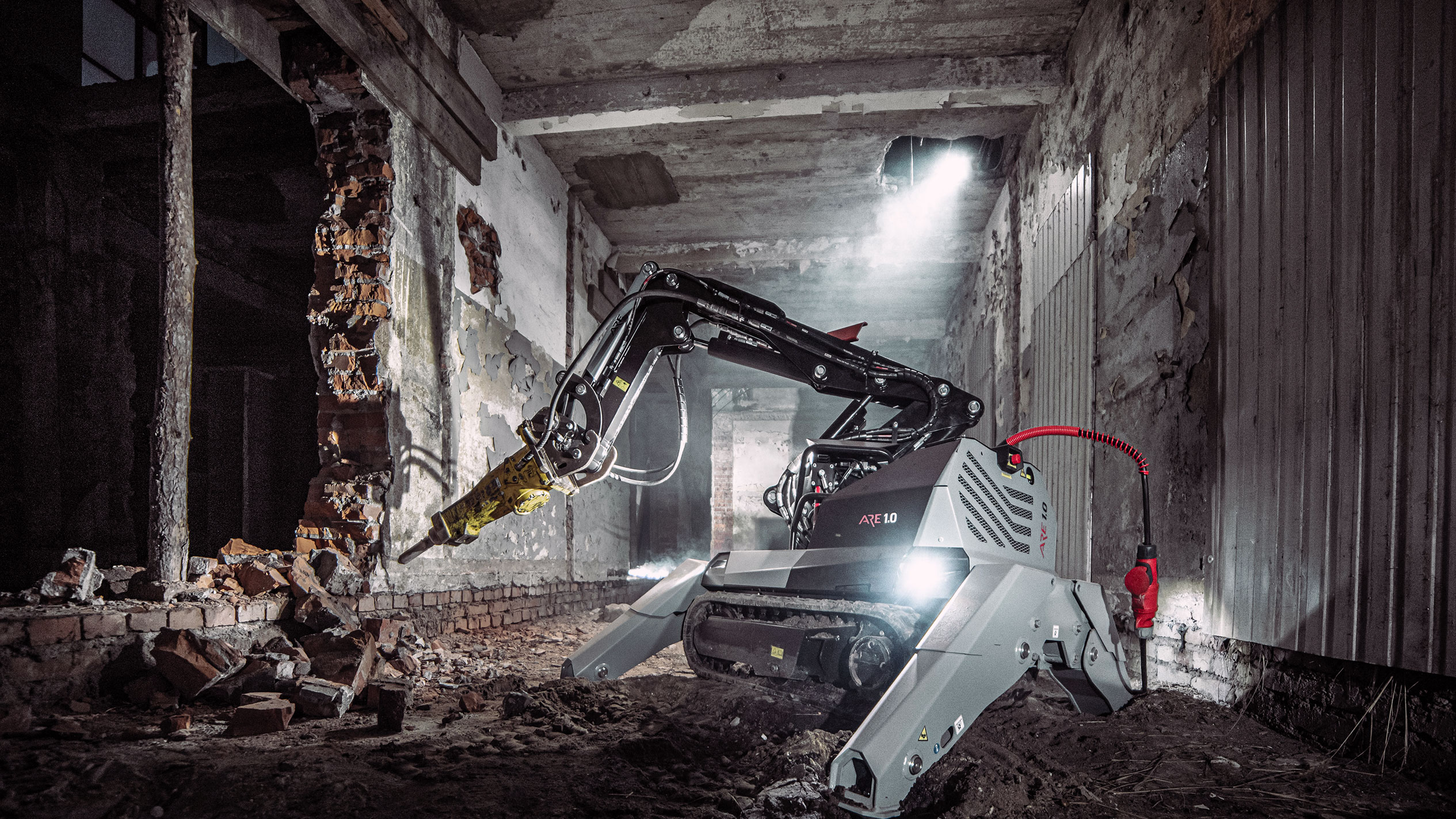 DESIGNED FOR THE CHALLENGES OF THE CONSTRUCTION SITE
ARE Demolition Robot has also successfully passed tests in other industries.
The hybrid drive, reinforced structure and unmatched engine power make ARE a reliable partner for construction teams. Innovative control system modes, marker lights and remote track tensioning enable precise demolition operations regardless of the time of day. Thanks to the emission-free electric power supply, ARE is also well suited to work indoors, and its light weight and maneuverability allow it to travel upstairs and safely carry out demolition works on the upper floor.
Every hour of cement plant downtime is a  huge  cost.  Thanks  to  compact  dimensions, maneuverability and mobility without external  power supply, ARE will easily enter the rotary  cement kiln  and  other  confined spaces in  your production plant. Electric power, efficiency and engine power allow much faster forging of the residual material and restarting the furnace.
Combining a small size with a functional construction,  ARE  Robot  easily  fits  into  the furnace, kiln, ladle and other spaces with limited access. Able to work at higher temperatures  and  controlled  remotely,  ARE  can enter the furnace much faster than a team of employees would do, reducing the losses associated with production downtime.
Mobile, remote controlled  and  versatile, ARE Robot will be suitable for a variety of works in the mine, where it is safer to send the machine instead of people – from drilling to digging, through collecting aggregate to demolitions.
MULTIFUNCTIONAL TOOLS FOR CONSTRUCTION AND INDUSTRY
The wide and constantly expanding range of attachable tools allows you to adapt ARE to various tasks on the construction site and in factory:
types of tools compatible with ARE arm, and the range is constantly growing
Grabbing power of gripper
or shears

ADVANCED ROBOTIC ENGINEERING SP. Z O.O.
ul. Stargardzka 9B
54-156 Wrocław